Physik bildet das Zentrum unserer technikbasierten Wissensgesellschaft. Wenn Sie sich für Grundlagenforschung und eine breit angelegte naturwissenschaftliche Ausbildung interessieren, studieren Sie Physik! Wir vermitteln solide Kenntnisse in Experimentalphysik, Theoretischer Physik und Mathematik sowie den Praxisbezug in den zugehörigen Praktika in der Fakultät und in deutschen Partnerinstituten. Darauf können Sie dann im weiteren Studienverlauf gezielt aufbauen. Die Qualität der Lehre wird durch ein gut ausgebautes Evaluierungssystem stetig verbessert.
Die Regelstudienzeit bis zum Bachelorabschluss beträgt drei Jahre. Danach kann innerhalb von zwei weiteren Jahren der Master erlangt werden. Im Bachelorstudium werden physikalische und mathematische Grundlagen erarbeitet, z.B. in Vorlesungen zur Experimentellen Physik, zur Theoretischen Physik sowie zur Angewandten Physik. Den Abschluss bildet die Bachelorarbeit. Nach dieser steigen Sie in den Beruf ein oder entscheiden sich wie die meisten für eine Fortsetzung des Studiums zum Master. Im weiteren zweijährigen Studium bis zum Masterabschluss folgt eine Spezialisierung auf bestimmte Forschungsrichtungen wie Astro- und Teilchenphysik, Physik komplexer Systeme, Festkörperphysik oder Biophysik. Die Masterarbeit wird innerhalb einer Arbeitsgruppe der Fakultät zu einem aktuellen Forschungsthema angefertigt.
Sie können bei uns auch Physik als 60 ECTS Nebenfach in Kombination mit einem 120 ECTS Hauptfach studieren.
Der Weg zum Bachelor of Science
Vereinfachter Studienplan für das Studium der Physik mit Abschluss Bachelor.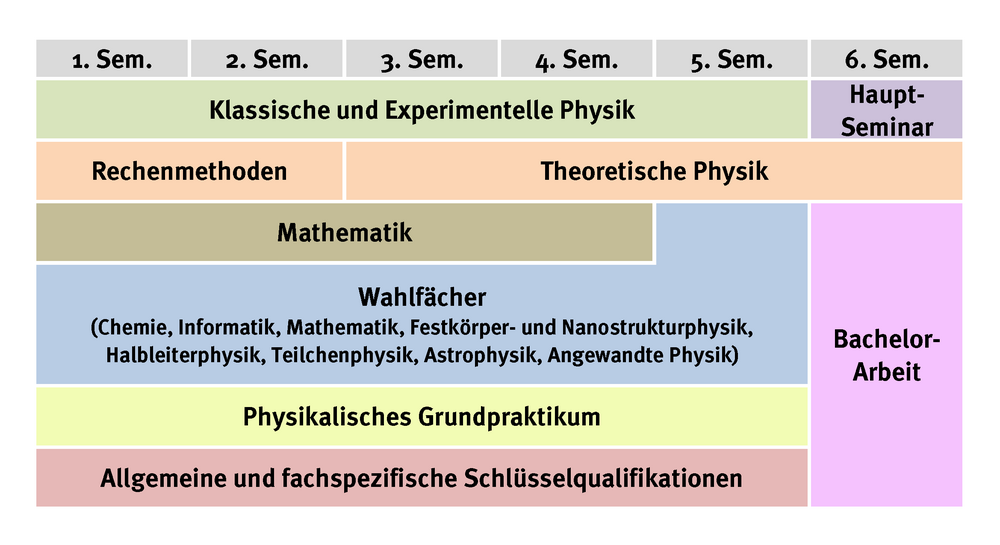 Der Weg zum Master of Science
Vereinfachter Studienplan für das Masterstudium Physik.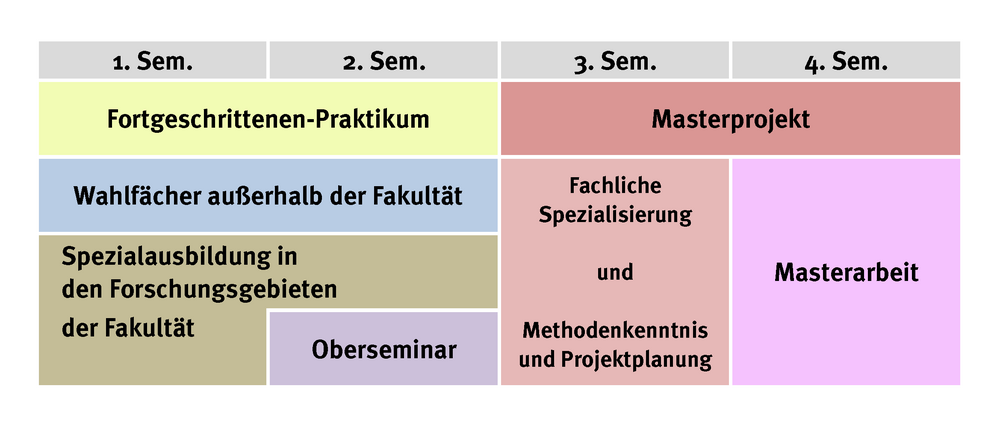 Interesse geweckt?
Hier gibt es alle Infos im Detail zum Start in das Bachelor-/ Masterstudium Physik!