Prof. Dr. Johanna Erdmenger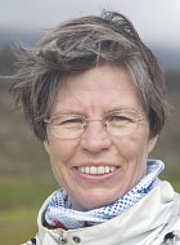 Research interests:
Quantum field theory
Applications of AdS/CFT:

in condensed matter and elementary particle physics
to non-equilibrium systems

Foundations of AdS/CFT:

Conformal field theory
Higher spin dualities
Quantum information and black holes

String Theory

Scientific career:
Since October 2016: Full professor for Theoretical Physics, Julius
Maximilians University Wuerzburg.
2014: Honorary professor, Ludwig Maximilians University Munich (LMU).
2005-2016: Research group leader, Max Planck Institute for Physics, Munich.
2004: Habilitation, Humboldt University Berlin.
2001-2005: `Emmy Noether' research group leader, Institute for Physics,
Humboldt University Berlin.
1999-2001: Postdoctoral researcher, Massachusetts Institute of
Technology (MIT), Cambridge, Massachusetts, USA.
1996-1999: Postdoctoral researcher, Institute for Theoretical Physics,
Leipzig University
1996: PhD degree, University of Cambridge, England, UK.
1993-1996: PhD student, University of Cambridge, England, Department of
Applied Mathematics and Theoretical Physics (DAMTP) and Trinity College.
Thesis supervisor: Professor Hugh Osborn.
1992-1993: Part III Course, University of Cambridge, England.
1992: `Diplom' degree, Hamburg University. `Diplom' thesis advisor:
Prof. Dr. K. Scharnberg.
1987-1992: Student, Physics Department, Hamburg University.
1987: European Baccalaureate, European School Brussels II.
Former Semester