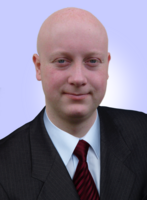 Forschungsinteressen:
Ich untersuche die Physik stark korrelierter Systeme mit dem Variational Cluster Approach (VCA) und der Functional Renormalization Group (fRG). Aktuell untersuche ich den Einfluss der Untergitter-Strukturen des Honeycomb und Kagome Gitters auf Langreichweitige Ordnungen.
Wissenschaftlicher Werdegang:
2003 - 2005 Grundstudium der Nanostrukturtechnik an der Universität Würzburg
2005 - 2007 Hauptstudium der Physik an der Universität Würzburg
2008 bis vsl. Ende 2012 Promotion an der Universität Würzburg
Veröffentlichungen:
M. Kiesel and R. Thomale, Sublattice Interference in the Kagome Hubbard Model, arXiv:1206.6539 (unpublished) (2012).
M. Kiesel, C. Platt, W. Hanke, D.A. Abanin and R. Thomale, Competing many-body instabilities and unconventional superconductivity in graphene, arXiv:1109.2953 (unpublished) (2011).
W. Hanke, M. Kiesel, M. Aichhorn, S. Brehm und E. Arrigoni, The 3-Band Hubbard-Model versus the 1-Band Model for the high-Tc Cuprates: Pairing Dynamics, Superconductivity and the Ground-State Phase Diagram, Eur. Phys. J. Special Topics 188, 15 (2010).