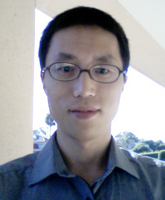 Forschungsinteressen:
I am interested in the strong coupling physics of novel materials. The question I have been attacking in my recent work is how to include the effect of non-local correlations in various DMFT approaches.
My current projects concern:
1. Continuous-time Quantum Monte Carlo (CTQMC), including both the weak and strong coupling methods.
2. Non-local extentions of DMFT, including various cluster DMFT methods , dual fermion approach and dynamical vertex approximation.
3. Frustrated system, the competition of short range magnetic order and the frustration effect.


wissenschaftlicher Werdegang:
Oct. 2005 - Oct. 2008: Ph.D in Physics Institute, Bonn University with professor Hartmut Monien
Sep. 2002 - July 2005: M.S. in Theoretical Physics, School of Physics, Peking University with professor Guang-Shan Tian.
Sep. 1998 - July 2002: B.S. in physics, Department of Physics, Northeast Normal University.