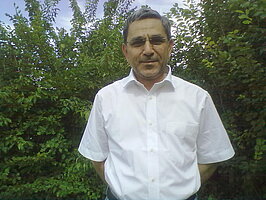 Forschungsinteressen:
Disordered semiconductors and metals: Anderson localization.
Exactly solvable one- dimensional disordered models.
Mesoscopic effects in nano-structures.
Strongly correlated systems.
Theory of Superconductivity.
First principles DFT investigations of semiconductors.
wissenschaftlicher Werdegang:

10.2007- 10.2008
Research Associate Geschäftsstelle Inno Sachs der GWT-TUD GmbH
2002- 2007
Research Associate, Technical University of Chemnitz, Faculty of Electrotechnics & Information Technics, Department of Opto- & Solid State Physics
2001- 2002
Guest Scientist, Max- Planck Institute für Physik Komplexer Systeme Dresden, Germany
1999- 2000
Visiting Scientist, Institut für Theoretische Physik, Universität Würzburg
1993- 1998
Visiting Professor, Istanbul Technical Universiy, Istanbul, Turkey
1992- 1993
Visiting Professor, Marmara University, Istanbul, Turkey
1988- 1991
Senior Scientist, Institute of Physics, Azerbaijan Academy of Sciences, Baku, Azerbaijan.
1988
Ph. Dr., Ioffe Physical Technical Institute, Russian Academy of Sciences, St. Petersburg, Russia
1981
B.S & M.S., Azerbaijan State University, Baku, Azerbaijan
Subject of Ph. Dr. Thesis:
Kinetic Properties of Strongly Anisotropic Two-Dimensional Disordered Systems with Open Fermi Surfaces: Application to Grain Boundaries in Semiconducting Bicrystals and Surface Superlattices