Stark im Shanghai-Ranking
08/18/2022
Das international renommierte Shanghai-Ranking zählt die Uni Würzburg zu den 250 besten Universitäten der Welt. Deutschlandweit belegt sie Platz 11. Damit konnte sich die Universität erneut auf einer guten Position behaupten.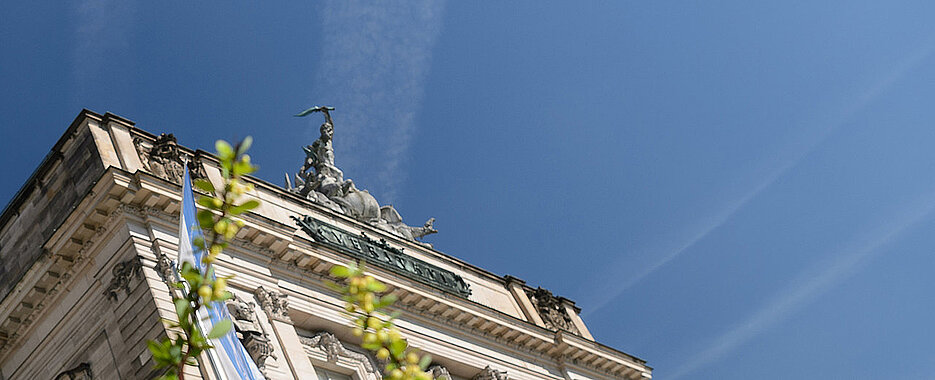 Die JMU hat im Shanghai-Ranking erneut eine gute Platzierung erreicht. (Bild: Daniel Peter)
Mitte August wurden die neuesten Ergebnisse des "Academic Ranking of World Universities" (ARWU), besser bekannt unter dem Namen "Shanghai-Ranking", veröffentlicht. Die Julius-Maximilians-Universität (JMU) Würzburg schnitt erneut stark ab und belegt in diesem Jahr weltweit Platz 228 und Platz 11 in Deutschland.
Von den bayerischen Universitäten sind nur die beiden Münchener Universitäten noch besser platziert. An der Spitze des Rankings stehen mit den Universitäten Harvard, Stanford sowie dem Massachusetts Institute of Technology (MIT) in diesem Jahr drei US-amerikanische Einrichtungen.
Vergleich von mehr als 2000 Universitäten
Um die Forschungsleistung ganzer Universitäten zu beurteilen, berücksichtigt das Shanghai-Ranking insgesamt sechs Parameter. Dazu gehören die Zahl der Alumni und der aktuell an einer Universität Beschäftigten, die mit hochrangigen Preisen ausgezeichnet wurden, die Zahl der Artikel, die in den Journals "Nature" und "Science" veröffentlicht wurden, oder auch die Anzahl der besonders häufig zitierten Wissenschaftlerinnen und Wissenschaftler ("Highly Cited Researchers").
Das erstmals im Jahr 2003 veröffentlichte Ranking zählt zu einem der ältesten und weltweit renommiertesten Forschungsrankings. Seit 2009 wird es jährlich von der Shanghai Ranking Consultancy, einer unabhängigen Organisation für Hochschulinformationen, veröffentlicht. Inzwischen vergleicht das Ranking mehr als 2000 Universitäten, wobei die Ergebnisse der besten 1000 veröffentlicht werden.
Website des Shanghai-Rankings 2022