Preisgekrönte Promotionen
05/15/2018
Seit über 50 Jahren werden beim Stiftungsfest herausragende Doktorarbeiten, die sich thematisch mit Unterfranken befassen oder deren Verfasser seit längerer Zeit in der Region leben, ausgezeichnet.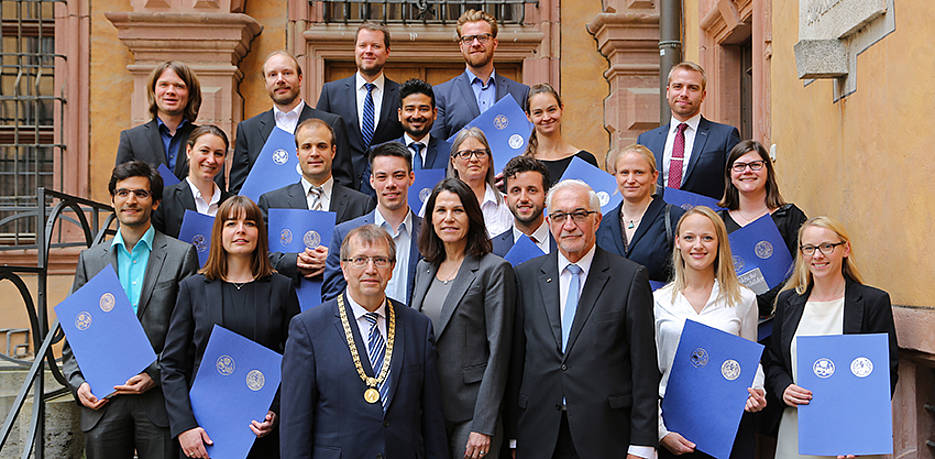 Preisträger der gemeinsamen Promotionspreise der Unterfränkischen Gedenkjahrstiftung für Wissenschaft und der Universität Würzburg mit Ministerin Marion Kiechle, Unipräsident Alfred Forchel und Regierungspräsident Paul Beinhofer. (Foto: Rudi Merkl)
Mit 500 Euro sind die gemeinsamen Promotionspreise der Unterfränkischen Gedenkjahrstiftung für Wissenschaft und der Universität Würzburg dotiert. Sie werden jedes Jahr für herausragende Dissertationen verliehen. Voraussetzung: Die Arbeiten müssen sich mit Unterfranken befassen und/oder von Personen geschrieben sein, die in der Region aufgewachsen sind oder seit längerer Zeit hier leben.
Traditionell werden die Preise im Rahmen des Stiftungsfestes der Universität in der Neubaukirche von Unterfrankens Regierungspräsident Paul Beinhofer in seiner Funktion als Vorsitzender des Stiftungsvorstands und von Universitätspräsident Alfred Forchel an die insgesamt 20 Preisträger verliehen.
Ab 2012 wurden die Mittel in enger Zusammenarbeit mit der Universität aufgestockt. Die Stiftung wurde 1964 ins Leben gerufen. Anlass war ein Jubiläum, die 150-jährige Zugehörigkeit Unterfrankens zu Bayern. Initiiert wurde die Stiftung vom damaligen Regierungspräsidenten Heinz Günder und dem Würzburger Geschichtsprofessor Otto Meyer. Stifter waren der Freistaat Bayern, der Bezirk Unterfranken, die unterfränkischen Landkreise und kreisfreien Städte sowie die unterfränkischen Sparkassen.
Die Preisträger 2018
Katholische Theologie
Dr. Marievonne Schöttner-Gödecke: "Der vollkommene Mensch. Zur Genese eines frühchristlich-gnostischen Konzepts." Betreuer: Prof. Dr. Bernhard Heininger
Jura
Dr. des. Magdalena Mayer: "Soziale Netzwerke im Internet im Lichte des Vertragsrechts." Betreuer: Prof. Dr. Oliver Remien
Dr. Alexander Schmidt: "Die Nichtzulassung der Revision mangels Erfolgsaussichten. Zur analogen Anwendbarkeit des § 144 Abs. 4 VwGO im Verfahren über die Nichtzulassungsbeschwerde nach § 133 VwGO." Betreuer: Prof. Dr. Ralf Brinktrine
Medizin
Dr. Stefan Karl: "Control Centrality in Non-Linear Biological Networks." Betreuer: Prof. Dr. Thomas Dandekar
Dr. Anja Quast: "Die Bedeutung der "Minipubertät" im frühkindlichen Spracherwerb – welchen Einfluss haben postnatale Sexualhormonkonzentrationen auf melodische, artikulatorische und temporale Eigenschaften von Komfortlauten von Säuglingen im fünften Lebensmonat?" Betreuerin: Prof. Dr. Kathleen Wermke
Philosophische Fakultät
Dr. Benjamin Heidenreich: "Ein Ereignis ohne Namen? Von der Deutung zur Erinnerung an den sog. "Bauernkrieg" von 1525." Betreuer: Prof. Dr. Helmut Flachenecker
Dr. Julian Schroeter: "Begriff und Hermeneutik der Selbstdarstellung – für fiktionale Texte und den Fall Christian Kracht." Betreuer: Prof. Dr. Fotis Jannidis
Humanwissenschaften
Dr. Philipp Abelein: "'Ich sehe was, was du nicht siehst?!' Subjektive und fremde Wahrnehmung der sozialen Integration bei Schülern mit AD(H)S – eine empirische Untersuchung an bayerischen Grundschulen." Betreuer: Prof. Dr. Roland Stein
Dr. Sandra Pachtner: "Quantitative Charakterisierung akustischer und phonetischer Eigenschaften kanonischer Babbler von gesunden Kindern mit deutscher Umgebungssprache." Betreuer: Prof. Dr. Detlef Hansen
Biologie
Dr. Christian Franke: "Advancing Single-Molecule Localization Microscopy: Quantitative Analyses and Photometric Three-Dimensional Imaging." Betreuer: Prof. Dr. Markus Sauer
Chemie / Pharmazie
Dr. Theresa Dellermann: "NHC-stabilisierte Bor-Bor-Mehrfachbindungssysteme – Darstellung und Reaktivität." Betreuer: Prof. Dr. Holger Braunschweig
Dr. Anja Röder: "Excited-State Dynamics in Open-Shell Molecules." Betreuer: Prof. Dr. Ingo Fischer
Mathematik / Informatik
Dr. Dorit Borrmann: "Multi-modal 3D mapping – Combining 3D point clouds with thermal and color information." Betreuer: Prof. Dr. Andreas Nüchter
Dr. Thorsten Reichert: "Classification and Reduction of Equivariant Star Products on Symplectic Manifolds." Betreuer: Prof. Dr. Stefan Waldmann
Physik / Astronomie
Dr. Jean-Nicolas Lang: "Automation of electroweak NLO corrections in general models." Betreuer: Prof. Dr. Ansgar Denner
Dr. Henriette Maaß: "Spin-dependence of angle-resolved photoemission from spin-orbit split surface states." Betreuer: Prof. Dr. Friedrich Reinert
Wirtschaftswissenschaft
Dr. Klaus Gründler: "A Contribution to the Empirics of Economic Development – The Role of Technology, Inequality, and the State." Betreuer: Prof. Dr. Norbert Berthold
Dr. Florian Schubert: "Composite-based Methods in Structural Equation Modeling." Betreuer: Prof. Dr. Martin Kukuk
Graduate School of Life Sciences
Dr. Sudip Das: "Genome-wide identification of virulence-associated genes in Staphylococcus aureus using transposon insertion-site deep sequencing." Betreuer: Prof. Dr. Thomas Rudel
Dr. Christiane Ziegler: "Epigenetic mechanisms in the pathogenesis and therapy of anxiety disorders." Betreuerin: Prof. Dr. Katharina Domschke
Link zu "einBLICK - Online-Magazin der Universität Würzburg"