Research area nanoCT systems
The section for Nano CT Systems has the task of researching and further developing new techniques of the highest resolution computed tomography on the laboratory scale. Three unique research machines with the most modern methods are used to pursue different approaches in order to enable three-dimensional investigations on the nanometer scale, far beyond the resolution of conventional optical microscopy. As a simplification it can therefore also be called 3D microscopy with X-rays.
Nano tomography is thus a non-destructive and volume-imaging method and is therefore differentiated from established surface investigation methods such as SEM or destructive methods such as FIB tomography, which are otherwise used for sub micrometer studies.
In a close cooperation between the chair and researchers of the Fraunhofer Group Nano CT Systems it was possible to successfully develop a compact nano CT system with outstanding performance compared to commercial systems available on the market so far. The ntCT is based on state-of-the-art technologies in the field of X-ray tubes and detectors and allows the three-dimensional examination of objects with a resolution down to 150 nm. Due to its fully integrated system design and intuitive user interface, the ntCT is a close-to-market system and therefore also a showcase for the instrument development capabilities
The magnification of the sample is based on geometric magnification, well known from the intersept theorem. For this purpose, the sample must be prepared as small as possible and positioned as close as a few hundred micrometers to the exit window of the X-ray source. A multi-axis sample manipulator with nanometer accuracy is available for this purpose. The X-ray source generates a source spot of only 300 nm on a tungsten transmission target. The radiation image is taken by a direct photon counting X-ray detector with 75 µm pixels. The ntCT is available to the chair for the investigation of various samples from the fields of materials science, microelectronics and biology.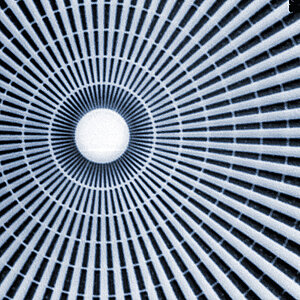 The inner 150 nm small lines of the Siemens star resolution test can be clearly distinguished in the X-ray image.
The special and specific requirements of X-ray systems require the use of tailor-made detector systems. Therefore, it is also part of the department's work to develop novel X-ray scintillation detectors in hardware and software. An important component for the optimization of detector efficiency is the understanding of the underlying mechanisms and the development of theory.