FRanconian Astronomy Neighborhood Collaboration Incentive 2015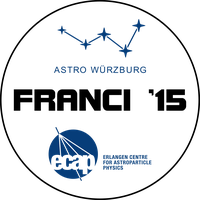 The FRANCI meeting has been an annual one-day meeting of the Dr. Remeis Sternwarte and ECAP (Erlangen-Nuernberg University) and the Chair of Astronomy (Wuerzburg University) since 2013. The goal of this meeting is
to bring together the different astrophysically related groups from our institutes
maintain and intensify the good local collaboration (professionally and socially)
present current research activities
FRANCI '15 will take place at Wuerzburg University (Emil-Fischer-Str. 31, 97074 Würzburg) on Friday, June 26 2015 at 10:00 o'clock. We will conclude the day with a soccer match and a barbecue.


The final program can be found here.
We have time for short poster presentations (2min, i.e. 2 slides).

Important Dates:
15.05.2015: Early Submission of contributions
12.06.2015: Final Submission of poster contributions
26.06.2015: Meeting

Submission of poster contributions is still open.
Please contact the LOC (Cornelia & Robert).